Launched in August 2017, KuCoin is one of the oldest and most versatile cryptocurrency exchanges in the world. With years of experience, this platform has evolved to perfect its services and adapt to all types of cryptocurrency traders. Popularly known as "The Peoples' Exchange", KuCoin stands out for the diversity and constant growth of its services, making it one of the most innovative exchanges in the cryptocurrency field.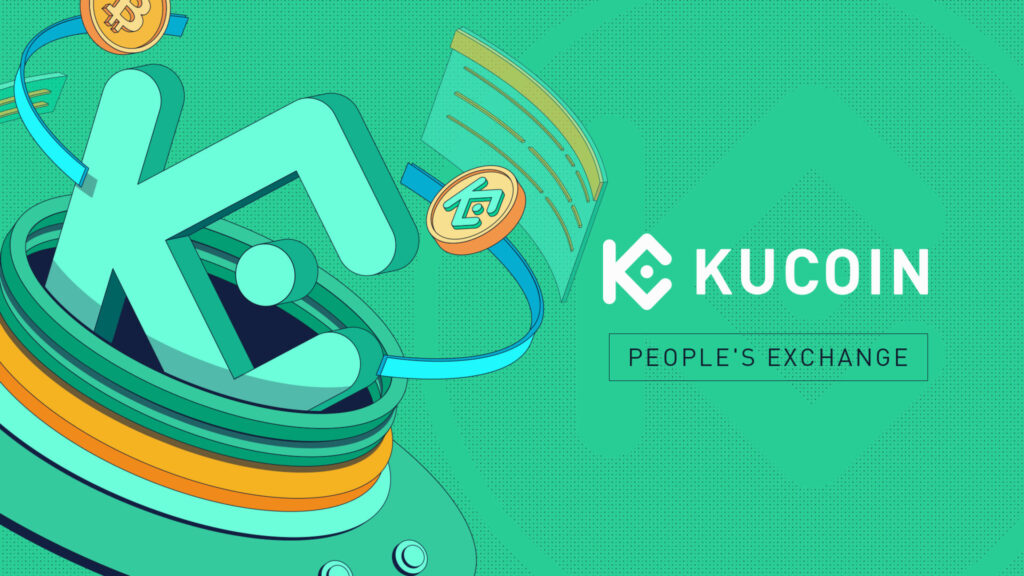 Is KuCoin safe?
KuCoin has leveraged its years of experience to enhance the security of its platform. The company uses some of the most sophisticated blockchain technologies to guarantee the security of its customers' information, funds and trading activities. Security features include:
Offline cryptocurrency vaults: KuCoin uses multi-signature offline cryptocurrency wallets to store the majority of its customers' funds. This eliminates the risk of cyberattacks and provides an additional layer of protection on the platform.
2FA authentications: 2FA authentication is a security feature available to all KuCoin customers. With this authentication, you receive email alerts and confirmations when someone logs in, deposits funds or attempts to withdraw from your KuCoin account.
KYC for high daily withdrawals: For added security, KuCoin has also implemented a maximum withdrawal limit for its accounts at various stages of verification.
Why choose KuCoin?
In this section, we'll talk about the main features of the KuCoin platform, its strengths and what sets it apart from the competition in the cryptocurrency industry.
Trade over 200 crypto-currencies: KuCoin offers its users the opportunity to buy, store or trade over 200 crypto-currencies on its platform. This wide selection of crypto-currencies makes the platform a preferred choice for crypto-currency traders and investors looking to trade or invest in small-caps.
Buy/Exchange Fiat in Crypto: You can directly buy cryptocurrencies with your credit or debit card on the KuCoin website. This makes account funding much easier for new traders.
Margin trading: KuCoin added its margin trading service to its platform in November 2019. This service allows traders to trade with borrowed capital.
Futurestrading: Trade the cryptocurrencies of your choice on the KuCoin exchange with up to x100 leverage.
Instant crypto-to-crypto exchange: KuCoin makes long-term cryptocurrency hodling a breeze with its instant exchange tool.
Crypto lending: Another way to earn money on the KuCoin platform is through crypto lending.
KuCoin free trading bot: KuCoin offers its users the possibility of using its free trading bot. This bot takes instructions from you on the types of trades to make and then executes those trades automatically.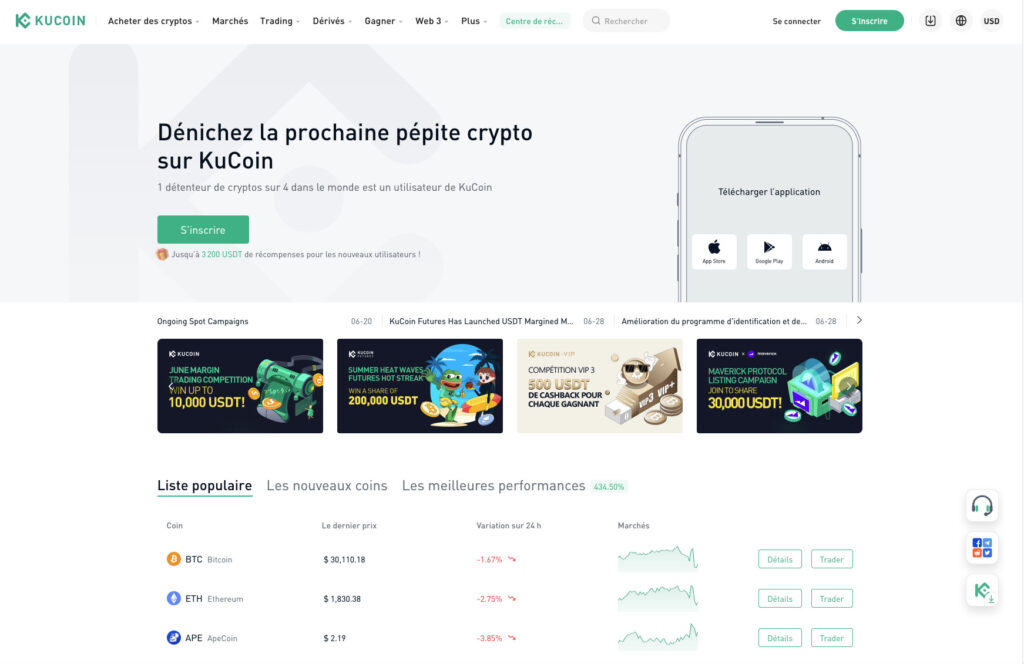 Buy Cryptos on Kucoin
KuCoin allows you to buy cryptocurrencies directly via your current account or credit card. However, KuCoin offers three methods of buying cryptocurrencies:
Fast Buy: Buy Bitcoin, Ethereum, or USDT with Visa and Mastercard.
P2P: Buy and sell cryptocurrencies on KuCoin's peer-to-peer exchange platform with other users.
Third-Party: Enter the cryptocurrency you wish to buy, payment method, currency, and choose between Simplex or Banxa third-party platforms to finalize your trade.
The third method offers the greatest flexibility, allowing you to buy dozens of cryptocurrencies, including Bitcoin, Cardano, Ethereum, Shiba Inu, and Solana. It also supports numerous currencies, making KuCoin a popular platform worldwide.
In addition, KuCoin allows investors to deposit fiat currencies such as USD, AUD, CAD, GBP and EUR into their KuCoin accounts using a credit or debit card.
KuCoin Advanced Trading Tools
KuCoin offers a wide range of trading tools as soon as you register. Basic spot trading allows you to buy and sell various cryptocurrencies at live market rates.
Spot trading, one of the traditional means of trading, allows users to place market, limit, stop limit, stop market or OCO orders. Trading fees are very competitive, at just 0.1 t can be further reduced by owning KCS tokens or increasing monthly trading volume.
KuCoin also offers margin trading with leverage up to x10. To use leverage from x5 to x10, select the "Isolated Margin" option, while "Cross Margin" offers leverage up to x5. Nevertheless, margin trading is a risky business, and we recommend trading with small amounts.
However, most of your trading options are trading pairs, which involve exchanging one cryptocurrency for another. For example, if you use KuCoin to trade Bitcoin, you can exchange the BTC you hold for dozens of other cryptocurrencies.
To take things a step further, KuCoin supports margin trading and futures. Margin trading offers up to 10x leverage, and futures up to 100x leverage. This increases your buying power considerably, but it's also particularly risky if you're new to trading and is not recommended for novice crypto investors.
Trading bots on Kucoin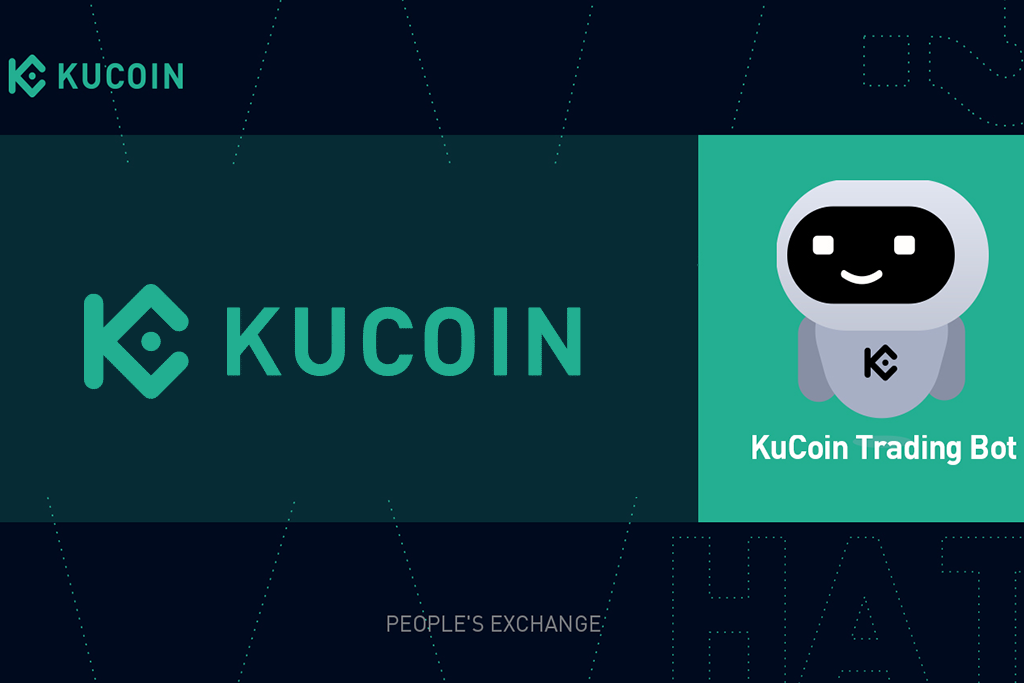 KuCoin's trading bots are automation tools that enable crypto-currency traders to implement their trading strategies. Thesebots can be set to follow an automated investment strategy, defining investment ranges and the amount to be invested. This feature is particularly useful for applying the Dollar Cost Averaging (DCA) strategy, which involves investing regularly in an asset to smooth its value over the long term.
The strategy most commonly used by the KuCoin trading bot is Spot trading, also known as Classic Grid trading. With this strategy, the bot exploits market fluctuations to position buy and sell orders, generating profits for the trader.
Like most trading bots, the KuCoin bot buys the selected crypto-currency when the price falls, and sells it when the price rises above the base currency, around a defined price and at set intervals.
A major advantage of trading bots is that they are not influenced by human factors such as emotions, which can often lead traders to lose money. Unlike humans, trading bots make decisions based on available rules, data and information.
Among its functions, the KuCoin trading bot also supports the Dollar-cost Averaging (DCA) strategy. This is a difficult strategy to execute manually, but the trading bot handles it with ease. Traders wishing to invest large sums in DCA can instruct the bot to invest a small portion of the total money at regular intervals, thus minimizing risk.
To start using the trading bot, first deposit money into your KuCoin account. Next, set the specific parameters for the trade based on historical data. You also need to select the trading pairs and funds the bot can use.
Once these steps have been completed, the bot takes over. It performs price analyses and forecasts using the parameters and crypto-currency market information it obtains from analysis tools and other resources.
Generate passive income with KuCoin Earn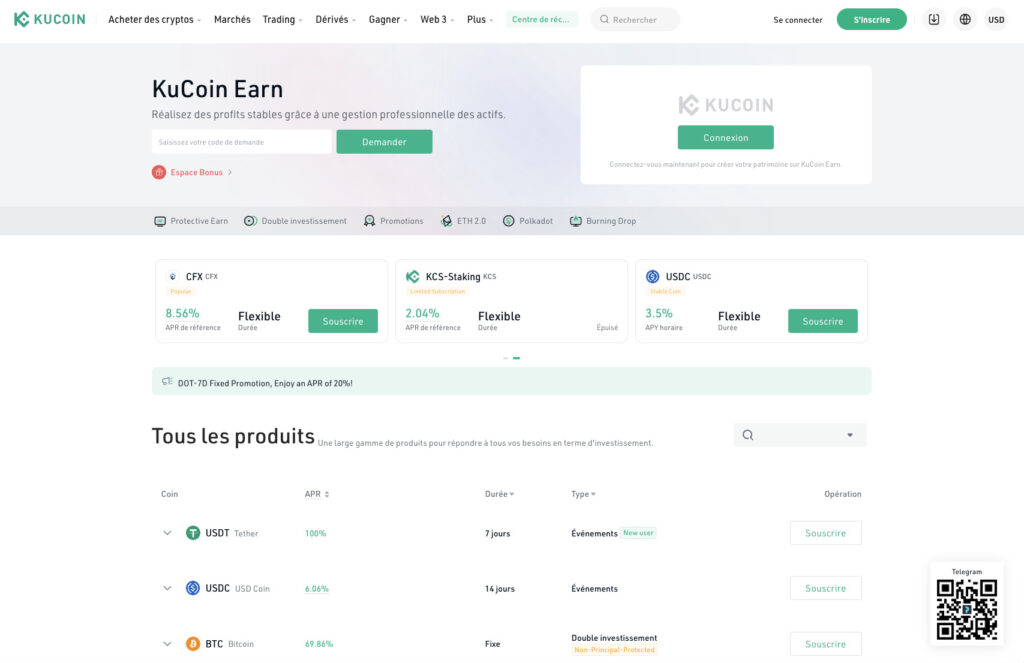 In addition to trading, KuCoin Earn offers opportunities to generate passive income. Crypto Lending" allows you to lend or borrow crypto-currencies and receive remuneration depending on the duration of the loan and the crypto-currency chosen.
KuCoin Earn also offers a staking-based yield solution. Users can lock their cryptocurrency for a set period or flexibly. Returns are shown in the "APR" column and vary according to the cryptocurrency chosen.
Kucoin token (KCS)
KuCoin launched its own token, the KuCoin Token (the KCS) in 2017. This token is a way of rewarding stakeholders. The more KCS you own, the more privileges you get. The benefits of owning KCS include:
Daily dividends: KCS holders share 50 of KuCoin's daily trading fees.
Discounts : Get discounts on KuCoin trading fees.
More trading options: KuCoin has additional trading pairs that use KCS.
Discounts on trading fees are one of the main benefits of owning KCS, and you get a 20n discount paying trading fees with KCS.
Conclusion
In summary, KuCoin is a cryptocurrency exchange that offers a wide range of services and robust security to its users. Whether you're a beginner or an experienced trader, KuCoin has something to suit your needs.
KuCoin also offers unique features such as "Spotlight", which highlights promising tokens offered in the form of Initial Exchange Offerings (IEO). Users can then purchase these tokens at a preferential rate during a defined period.
The "KuCoin Win" system works like a lottery, where users can buy tickets in a bid to win major prizes.
Finally, "KuCoin Pool" and "Cloud Mining " are two performance tools that allow users to participate directly in cryptocurrency mining. These services require specific registration, with information available on the dedicated page.
Frequently asked questions
Where is KuCoin based?
KuCoin is a cryptocurrency exchange platform based in the Seychelles.
Is KYC verification required on KuCoin?
Yes, we strongly recommend that all KuCoin users complete KYC verification. KYC verified accounts may also benefit from a higher daily withdrawal limit. KYC verification can also reduce money laundering, fraud, terrorist financing and other malicious activities. However, it is still possible to make small transactions without a verified account. It is possible to withdraw up to 2 BTC per day without KYC verification.
Can we buy cryptocurrencies with fiat currencies on KuCoin?
Yes, KuCoin supports 22 different fiat currencies for buying coins.
Can you use a credit card on KuCoin?
KuCoin has partnered with Banxa to allow existing and new KuCoin users to purchase cryptocurrencies using Visa/MasterCard, Apple Pay and 10 other payment options.
Can we trust KuCoin? Is KuCoin legitimate?
In terms of transaction fees, KuCoin is one of the exchange platforms with the lowest fees. KuCoin's biggest competitor is Binance, as both platforms have similar competitive strategies. They both charge almost equally low fees.
Kucoin
KuCoin is a secure crypto-currency platform for buying and trading BTC and over 830 altcoins.