Founded in 2018, Bybit is a Dubai-based crypto-currency futures exchange. Since its inception, Bybit has grown by leaps and bounds to become one of the largest and most respected crypto-currency exchanges by 2023, with over 10 million users trading on the platform worldwide.
What you need to know about Bybit
Bybit operates as Bybit Fintech Limited, a company registered in the British Virgin Islands. Bybit's executive team includes experts from the forex and banking industries, such as Morgan Stanley, Tencent, and other well-known institutions.
Bybit offers three product lines on which to trade: Spot, Derivatives and Options. You can trade various crypto products with up to 100:1 leverage on the platform.
What sets Bybit apart
The Bybit system has come a long way since 2018. Throughout this growth, Bybit's leaders have focused on two main elements: user-friendliness and platform security.
Bybit offers one of the most advanced, secure and user-friendly platforms in the crypto industry. The platform caters for the needs of retail and institutional traders, and can handle up to 135,000 TPS (transactions per second), a figure well above that of its competitors.
How to register with ByBit
Registering with ByBit is a quick and easy process. Here are the steps to follow to create an account:
Visit the ByBit website and click on "Register" in the top right-hand corner of the home page.
Fill in the registration form, providing your email address, first and last name.
Accept the terms and conditions and privacy policy to finalize your registration.
Once registered, you can start investing and trading the crypto-currencies or NFTs of your choice.
Bybit benefits
A wide range of cryptocurrencies: With over 150 cryptocurrencies available, Bybit offers a wide variety of stocks to trade.
Low fees: Bybit offers some of the lowest trading fees on the market, ideal for maximizing your profits.
High liquidity: Bybit's high liquidity makes it easy to execute trades quickly and at the best price.
Advanced trading tools: Bybit offers a range of advanced trading tools, such as stop-loss, take-profit and trailing-stop orders.
Bybit Token: Although Bybit does not have its own cryptocurrency, BitDAO, a Bybit spin-off, recently launched the BIT token.
Bybit's main features
Futuresand derivatives: Bybit offers a wide range of futures and derivatives.
Leveragedtrading: Bybit enables leveraged trading of up to 100x, maximizing your returns with an easy-to-use interface.
Automatic margin replenishment: This feature keeps your position open by automatically replenishing your margin when it's close to being exhausted.
How do I start trading on Bybit?
Registration: Create an account on the Bybit platform in just a few minutes.
Deposit funds: After registering, deposit funds into your account. Bybit accepts a variety of payment methods, including cryptocurrencies and fiat currencies.
Market selection: Select the market in which you wish to trade. Bybit offers a wide variety of markets, including spot, futures and derivatives.
Order placement: Place an order by choosing from different order types, such as limit orders, market orders and stop-loss orders.
Transaction monitoring: Once the order has been placed, you can monitor your transactions in real time and set up alerts to be notified when the price of a cryptocurrency reaches a certain level.
Why choose Bybit?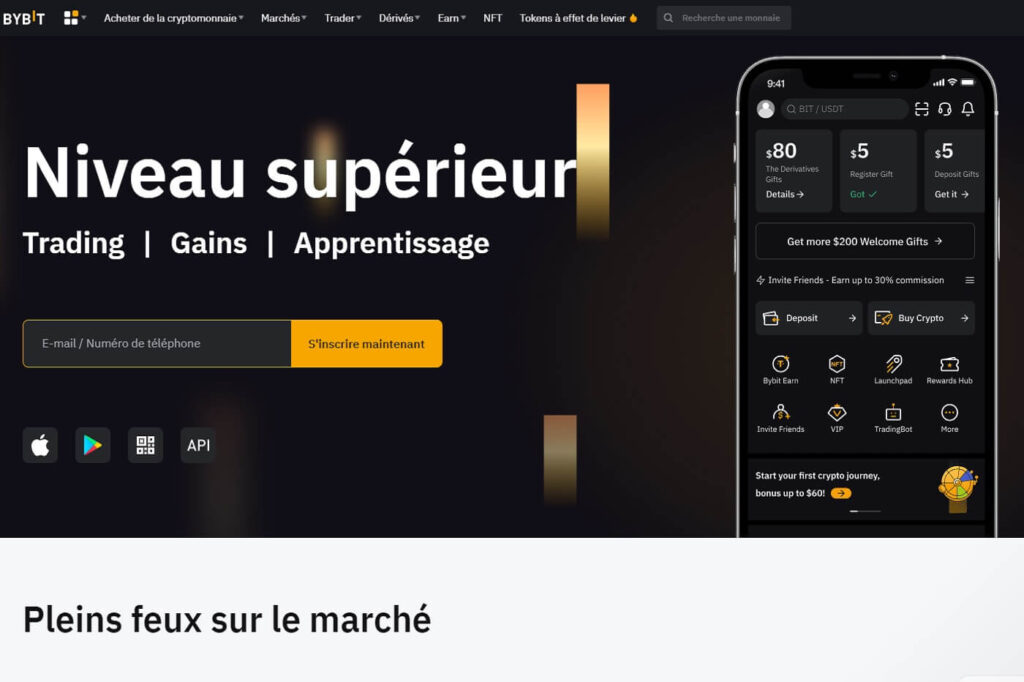 Bybit offers one of the fastest transaction times with over 135,000 tps, accepts up to 55 fiat currencies and 547 payment methods on its platform, accepts credit cards to make any transaction on its platform, supports spot trading with over 371 trading pairs, 60 listed tokens, and a daily trading volume of $3.4 billion.
Security and risk management
Security is a top priority for Bybit. The platform employs conventional security measures, including two-factor authentication, cold storage of funds and KYC verification. What's more, Bybit has never been the victim of hacking or theft. In terms of risk management, Bybit offers several tools, including stop-loss and take-profit orders.
Bybit
Bybit is an online trading platform specializing in cryptocurrency derivatives.