Binance is one of the world's most popular cryptocurrency exchange platforms, and is a benchmark for many crypto traders. Founded in 2017 in Hong Kong by Chinese-Canadian developer Changpeng Zhao, also known as CZ, Binance quickly gained popularity despite fierce competition at the time of its launch. Today, Binance is one of the most widely used cryptocurrency exchange platforms in the world, handling more transaction volume than any other cryptocurrency exchange platform.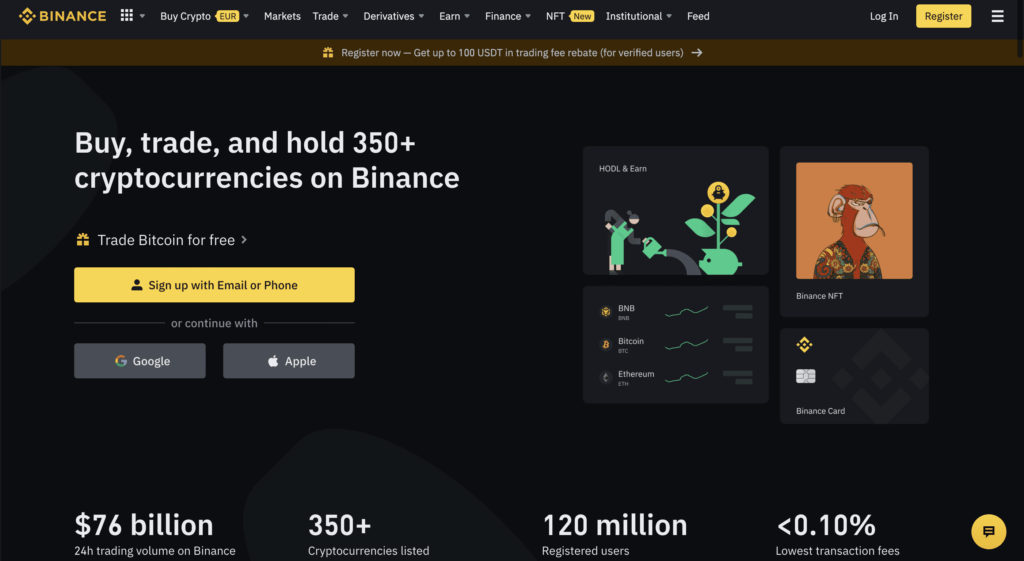 Binance: a secure platform for cryptocurrency trading
Binance is considered one of the most secure cryptocurrency trading platforms, thanks to its use of advanced security protocols to protect its customers' assets and information. Although Binance has suffered some losses in the past, the platform has significantly improved its security in recent years. In addition, Binance works closely with regulatory authorities based in the United States and the United Kingdom.
Binance user interface: a quality user experience
Binance offers one of the best user interfaces in the crypto space. The platform offers a user interface designed for all types of traders. Users new to the crypto space will have no difficulty navigating Binance, as it is intelligently designed.
Payment methods on Binance: appreciable flexibility
Unlike many other crypto exchange platforms, Binance does not rely on a single payment method to serve its users. In fact, Binance is one of the few cryptocurrency exchange platforms that offers multiple deposit and withdrawal methods, which is ideal for any cryptocurrency trader.
How do I withdraw funds from Binance?
It's possible to withdraw your investments from Binance using one of the payment methods mentioned above. If you want to withdraw money in the form of FIAT, you can convert your assets on the commercial market and withdraw easily. It is also possible to withdraw cryptocurrencies directly from your Binance wallet to any other external wallet.
Binance fees: a competitive fee structure
In terms of fees, Binance is considered one of the cheapest cryptocurrency exchange platforms, far less expensive than competitors such as Coinbase. Binance doesn't charge a high percentage for cash transactions or withdrawals, to ensure that its customers don't lose their profits (if any).
Binance
Binance is the world's largest bitcoin and cryptocurrency exchange platform.